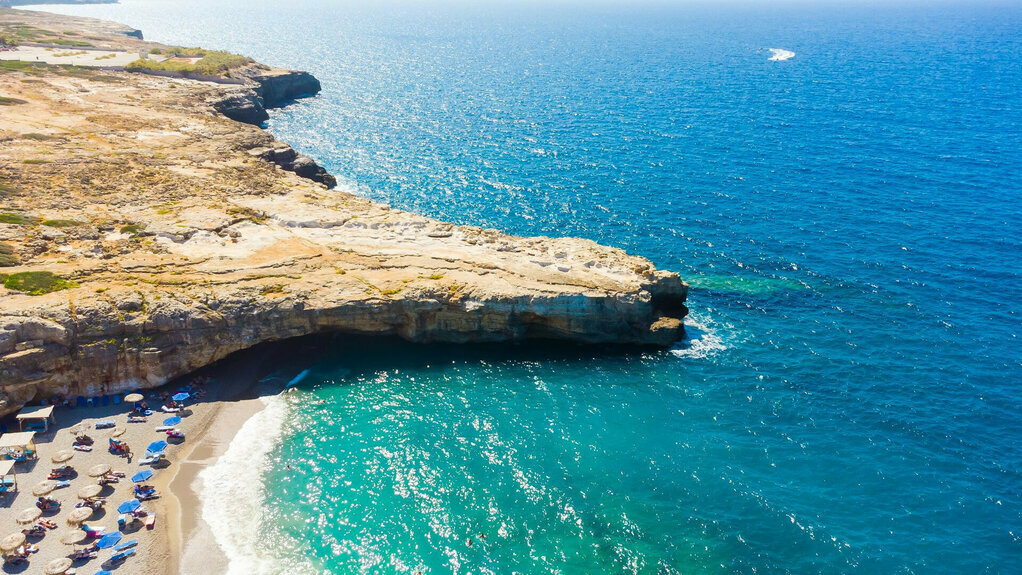 The 8+1 Best Beaches In Rethymno
What is your ideal beach holiday experience in Greece? Do you dream of discovering hidden coves and secluded pristine beaches or prefer a more organized beach with tourist facilities, close to the vibrant local bars and restaurants?
The coast of Rethymno, Greece is graced with mesmerizing beaches, from long sandy shorelines to secluded lagoons, hidden coves, and rocky bays. The best beaches in Rethymno are situated on both the northern and southern sides of the coast.
The beaches on the northern side of Rethymno are pretty popular and these have organized facilities, surrounded by hotels, bars, restaurants, and water sports centers. On the southern side of Rethymno, you'll find flawless beaches, untouched by mass tourism and ideal for those seeking total privacy.
There are many elements that factor into what makes a great beach. The location, the color and texture of the sand, the clarity and purity of the water, the view, the facilities, the crowds, and depending on whether or not you have a car, proximity to the hotel. If you are staying in one of the hotels in Rethymno old town, like our charming Pepi Boutique Hotel, you can choose between nearby beaches or venture out for more off-the-grid beach experiences. Whichever path you end up choosing, here are the 8+1 best beaches in Rethymno to visit, at your leisure.
The best beaches in Rethymno: Northern shoreline
1. Town Beach
Within walking distance of the city center of Rethymnon, the long and sandy town beach stretches for 13 kilometers and is the longest beach in Crete. It is a fully-organized beach with plenty of facilities, including sunbeds, umbrellas, and beach bars and restaurants.
2. Bali Beach
A little further out, 32 km east of Rethymnon Town Bali beach features emerald green waters surrounded by wild landscapes and set in the picturesque coastal village of Bali. Bali beach consists of several beaches formed by a series of coves. The beach has facilities and the area is lined with taverns, cafes, and restaurants.
3. Episkopi Beach
Here is a long, shallow-water sandy beach found at the namesake village of Episkopi, 14 west of Rethymno Town. If you're into harnessing the power of the winds, you'll be pleased to know that on windy days, this beach is an excellent choice for watersports. Due to its large size, it offers both orgniazed spots with sunbeds and umbrellas while you can also find quieter spots to enjoy an entirely serene day.
The best beaches in Rethymno: Southern shoreline
4. Souda Beach
Enjoy soft sand sifting through your toes at the last beach of the beachfront of Plakias, 41 km south of Rethymno Town. It combines lovely sand and rocky edges that are ideal for spending hours observing the fascinating underwater landscape. Take in the beautiful scenery of cypress trees growing all the way down to the crystalline waters. Note this is not a good beach on a day with strong north winds as it is prone to sandblasts.
5. Klisidi Beach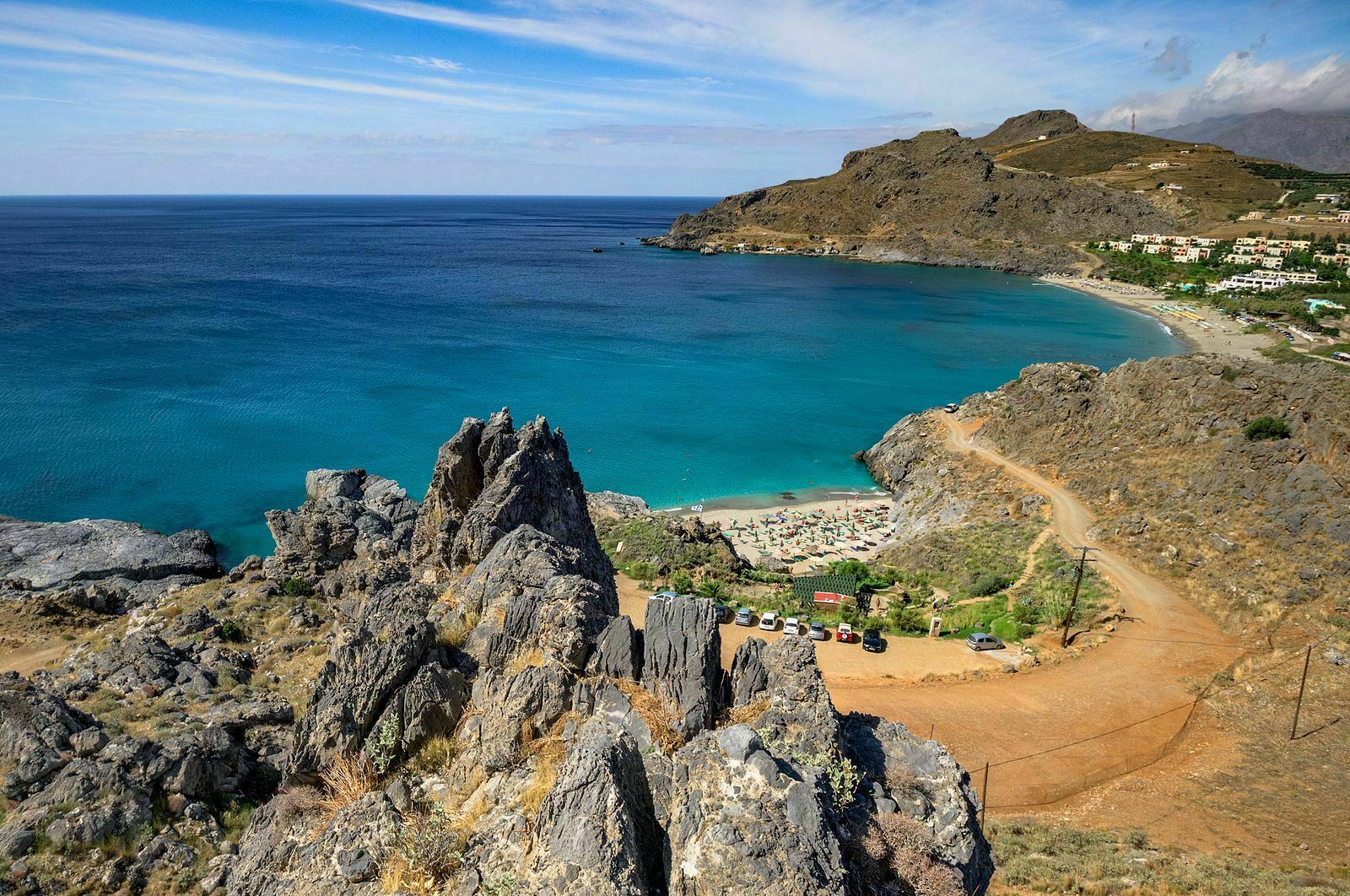 On the southern coast, around 33 km from Rethymno Town, you'll find Klisidi or Kleisidi beach. Justifiably amongst the best beaches in Rethymno, this is a small yet stunning, narrow sandy beach. It features turquoise waters set between two elongated rocks, perfect for those who prefer a secluded and unadulterated beach experience.

6. Ammoudi & Ammoudaki Beaches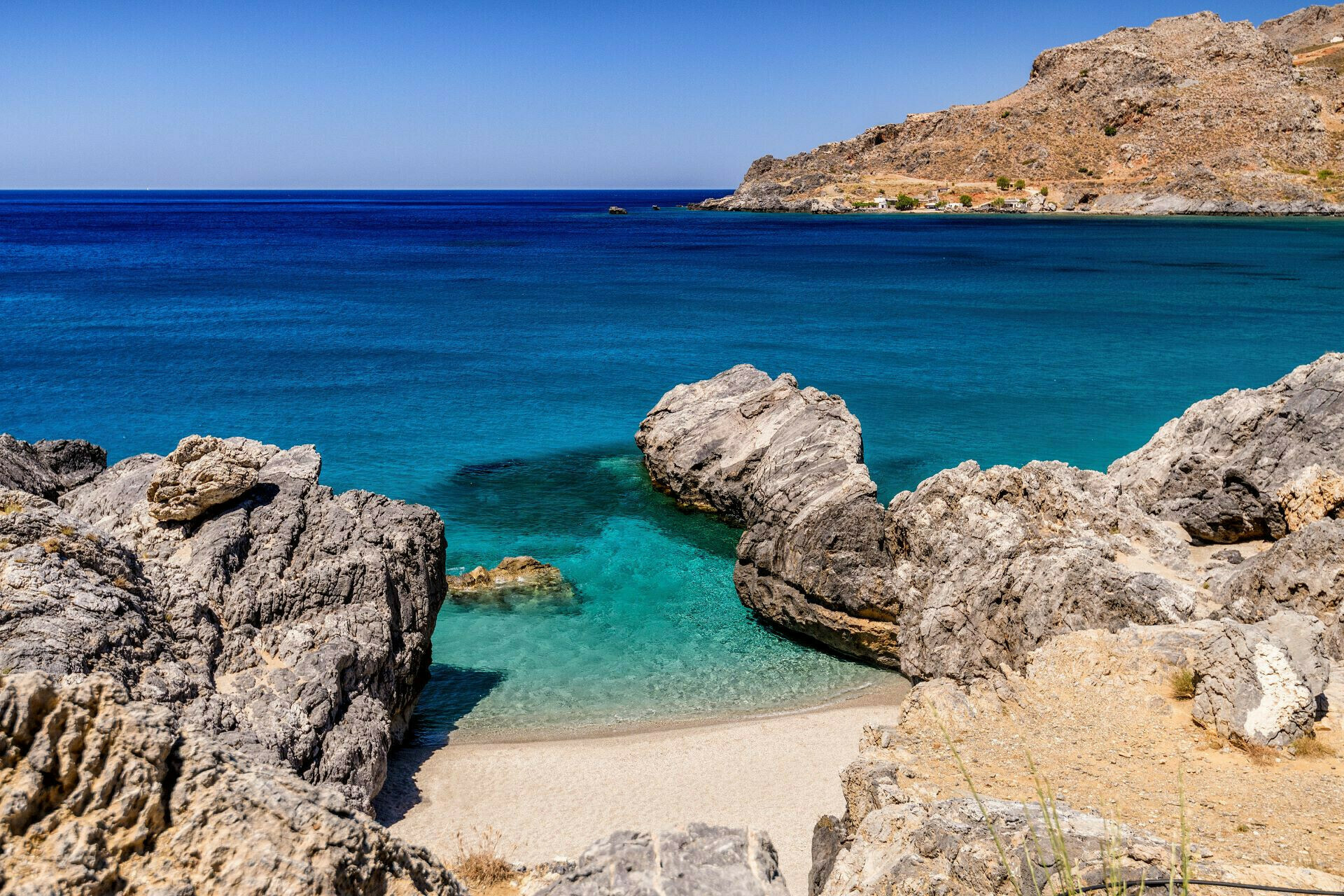 Located in the coastal village south of Rethymno known as Plakias, Ammoudi and Ammoudaki are two of a total of four beaches along this stretch, including the aforementioned Klisidi beach. These are small coves that features some umbrellas and sunbeds and if you want to secure a place, you better arrive early as there aren't many available. They are lesser known yet totally remarkable. Note that there may be some nudists here.
7. Damnoni Beach
This is the largest of the four aforementioned beaches around the village of Plakias, featuring long stretches of fine sand. Here you will find azure waters and some sunbeds and umbrellas for comfort. Visitors will often make their own setup on the sand further down the beach in the less-organized parts. In case you feel peckish after all the swimming and sun-soaking, a few tavernas and restaurants are located just on the other side of the road.
8. Triopetra Beach
For an entirely off-the-grid beach day, Triopetra Beach, whose name literally means 'three stones' in Greek, provides just that. Even in the peak of summer, this beach is rarely crowded for a few reasons: it is very long, so beachgoers are likely to sit further apart, it is fairly far from Rethymno town (50 km approximately which is typically about one hour's drive) and it is not sheltered from the south winds. If you decide to venture out to Triopetra, check wind direction beforehand. Winds aside, Triopetra definitely has that 'wow' factor as far as beaches go.
9. Agios Pavlos Beach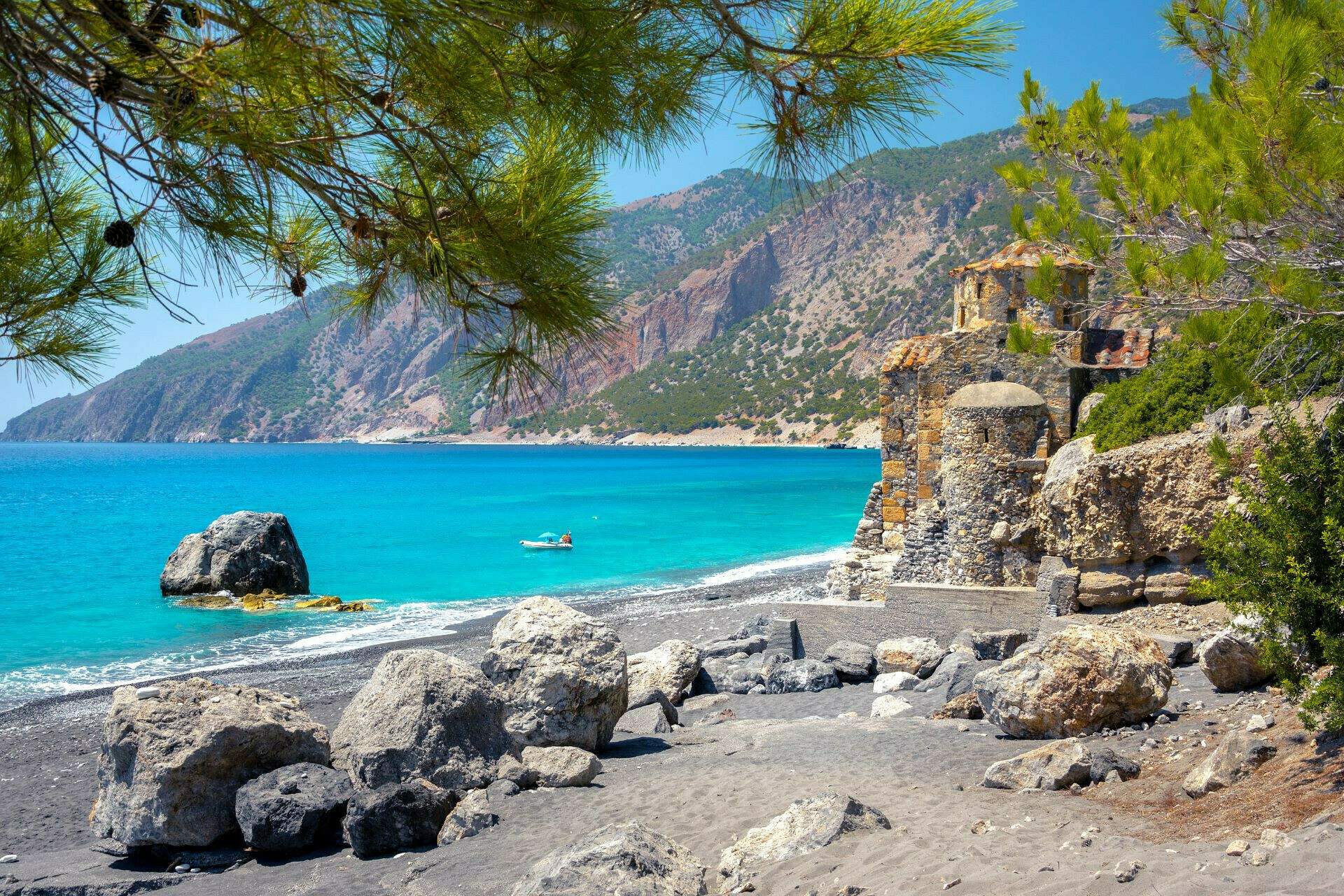 If you love to discover secluded little coves, then you'll find the bay of Agios Pavlos Beach heavenly. 58 km from Rethymnon town, this beautiful little cove is blessed crystal clear waters and a delightful seabed for snorkelling enthusiasts. There you will find some amenities such umbrellas and sunbeds for comfort in the main section of the beach plus water pedals for hire. One unique feature is the picturesque namesake chapel above the beach which you can visit.
10. Kalypso Gulf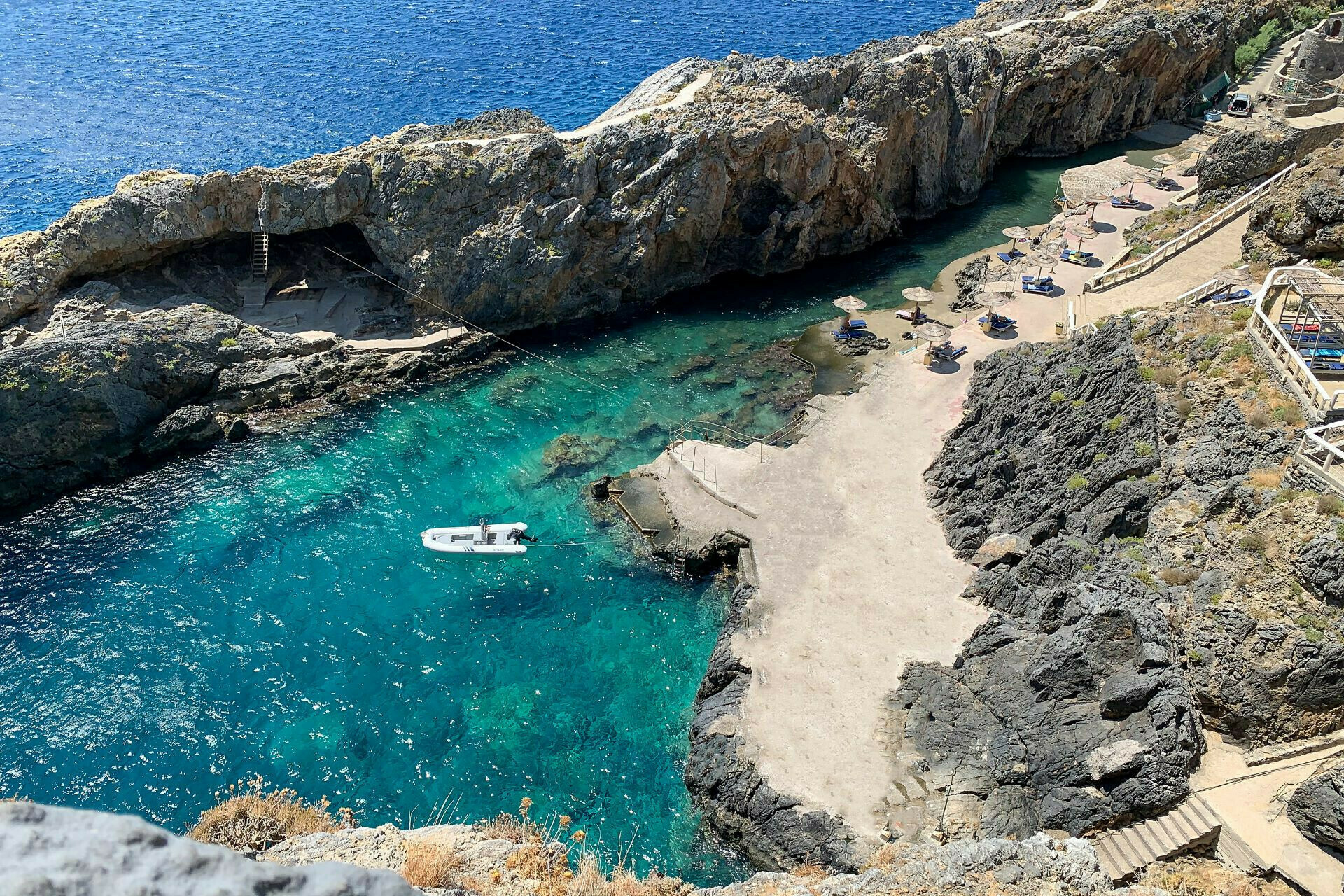 Last but definitely not least, the small but mystifying Kalypso Gulf, located 37 km south from Rethymnon Town, is one location for an entirely different beach experience. There is actually no beach. Yes, that is correct. Best described as a hidden pirate bay, Kalypso Gulf welcomes visitors on its rock decks that have been specially structured to follow the natural shoreline. You can dive straight into the translucent emerald waters directly or use various ladders while the shape of the cove provides natural shelter from any winds, so this is a perfect spot to visit on a windy day.
With Crete being such a large island, in order to discover the best beaches in Rethymno, you must be prepared to go the distance. The above-mentioned best beaches in Rethymno are all effortlessly accessible with a stay at Pepi Boutique Hotel, a charming hotel in the heart of Rethymno Town that also lets you reap the rewards of a central location. Here you will find a tranquil, luxurious all-year-round retreat, silently tucked away in the center of the charismatic old Venetian town of Rethymno, ideal for couples, friends, and business travelers.
Back to list