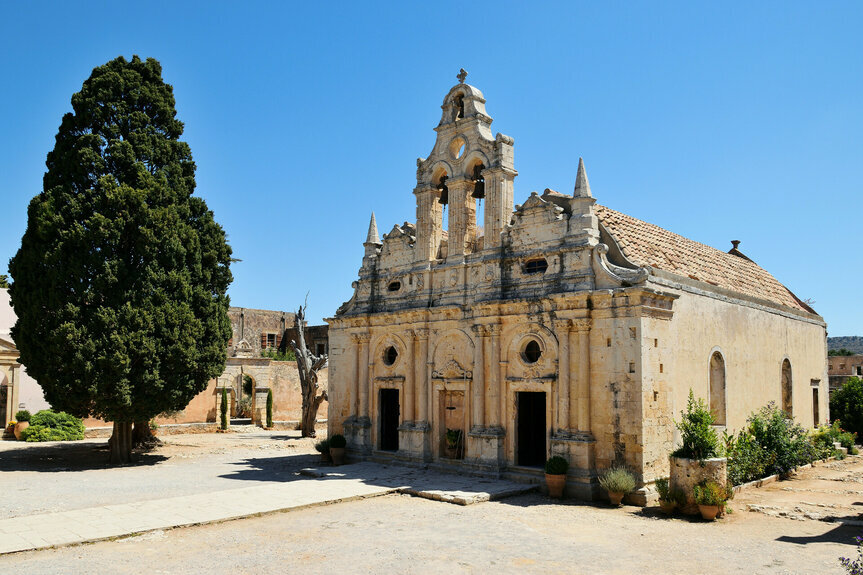 Places to visit 1 hour from Rethymno
Rethymno is set in a land of plenty that will capture your heart and free your spirit - from the gently rolling hills, dramatic gorges, and mysterious caves, to the breezy pristine beaches, and warm turquoise waters. When visiting, you can choose from many different types of adventures and 5 places to visit 1 hour from Rethymno.
Explore the history, art, unadulterated nature, and rich culture of Crete, not to mention its culinary legacy, intimately connected to tradition and the abundance of the land. Visit nearby picturesque villages, wondrous caves, lush forests, and remarkable beaches. There are countless splendid 5 places to visit 1 hour from Rethymno, and here are some suggestions.
1. Arkadi Monastery
Arkadi, just under half an hour's drive from Rethymno, is considered a spiritual and historic site of great importance. The Arkadi Region is named after Crete's most impressive and famous of monasteries set on a plateau, on the lower slopes of Mt. Psiloreitis. Visiting Arkadi Monastery is a life-changing experience and the setting of a true story about historical heroism. You may combine an easy and picturesque hike if you head north of Arkadi Monastery, just under 5 km, in the village of Pikris, to the Arkadi gorge. Explore various ancient ruins of the Venetian and Ottoman eras, scattered in the Cretan landscape and flora. Arkadi is also in proximity to the villages of Margarites, about 25 km southwest of Rethymnon, a mountain village known for its pottery and beautifully hand-painted tableware.
2. Spili Village
Visiting Spili in Crete is a delightful immersion into authentic Cretan charm. Nestled amid lush greenery just over half an hour from Rethymno, this picturesque village entices with its bubbling springs, ancient Venetian architecture, and warm hospitality. The central square, shaded by centuries-old plane trees, is adorned with traditional tavernas offering delectable local cuisine. Spili's renowned lion-head fountains, gushing crystal-clear water, add a touch of whimsy to the experience. Surrounded by rugged mountains and pristine nature, Spili invites travelers to unwind, savor genuine Cretan flavors, and revel in the tranquility of this hidden gem.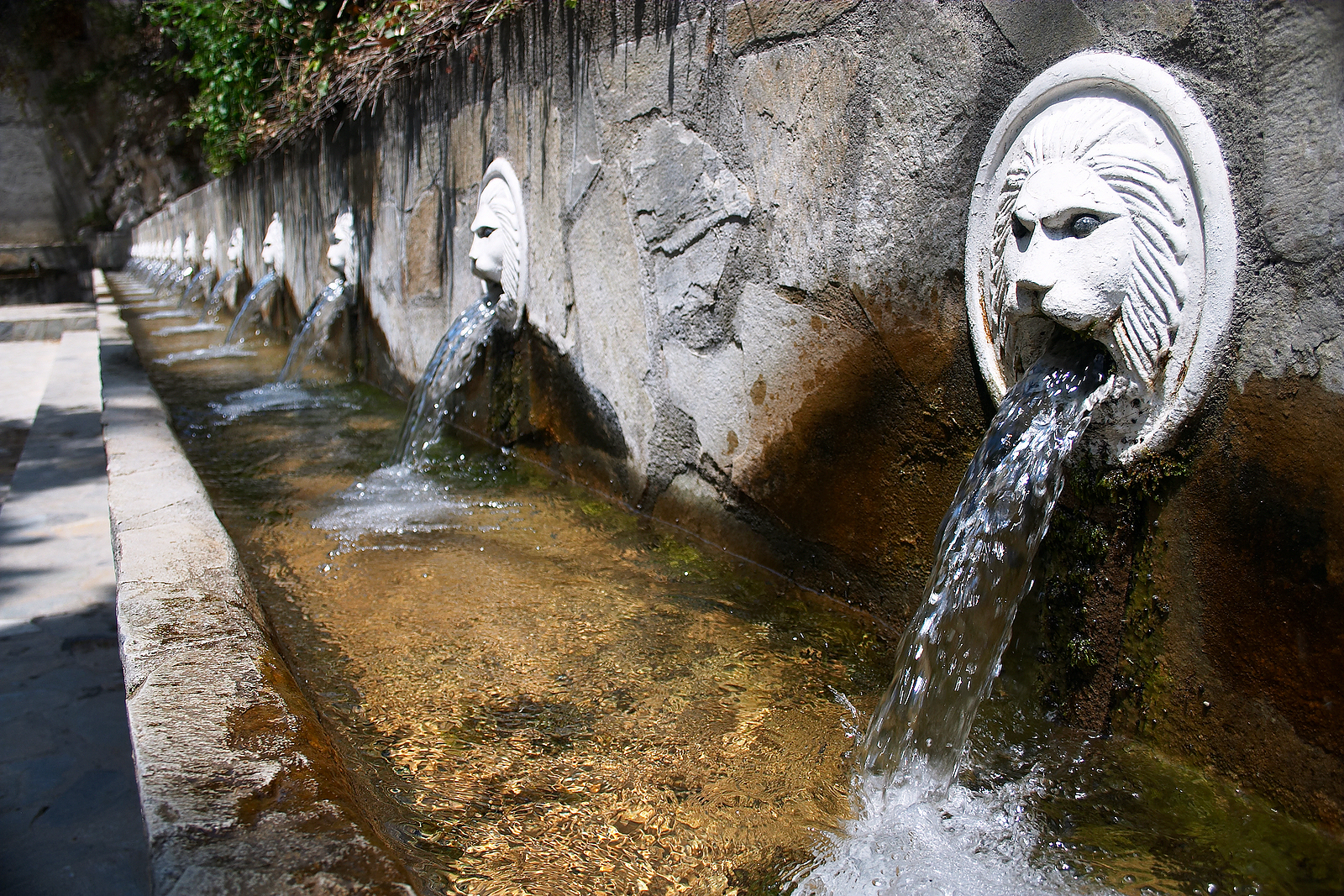 3.Sfendoni Caves
One hour away, Sfendoni Caves in Zoniana is a journey into the heart of ancient natural wonders. Nestled amidst the rugged Cretan landscape, these caves beckon explorers with their mystic allure and captivating formations. As you venture into the earth, you'll be mesmerized by the intricate stalactites and stalagmites of the cavernous walls, creating a surreal atmosphere. The echoes of history resonate in every corner, as these caves have been inhabited since the Neolithic era, making it a significant archaeological site.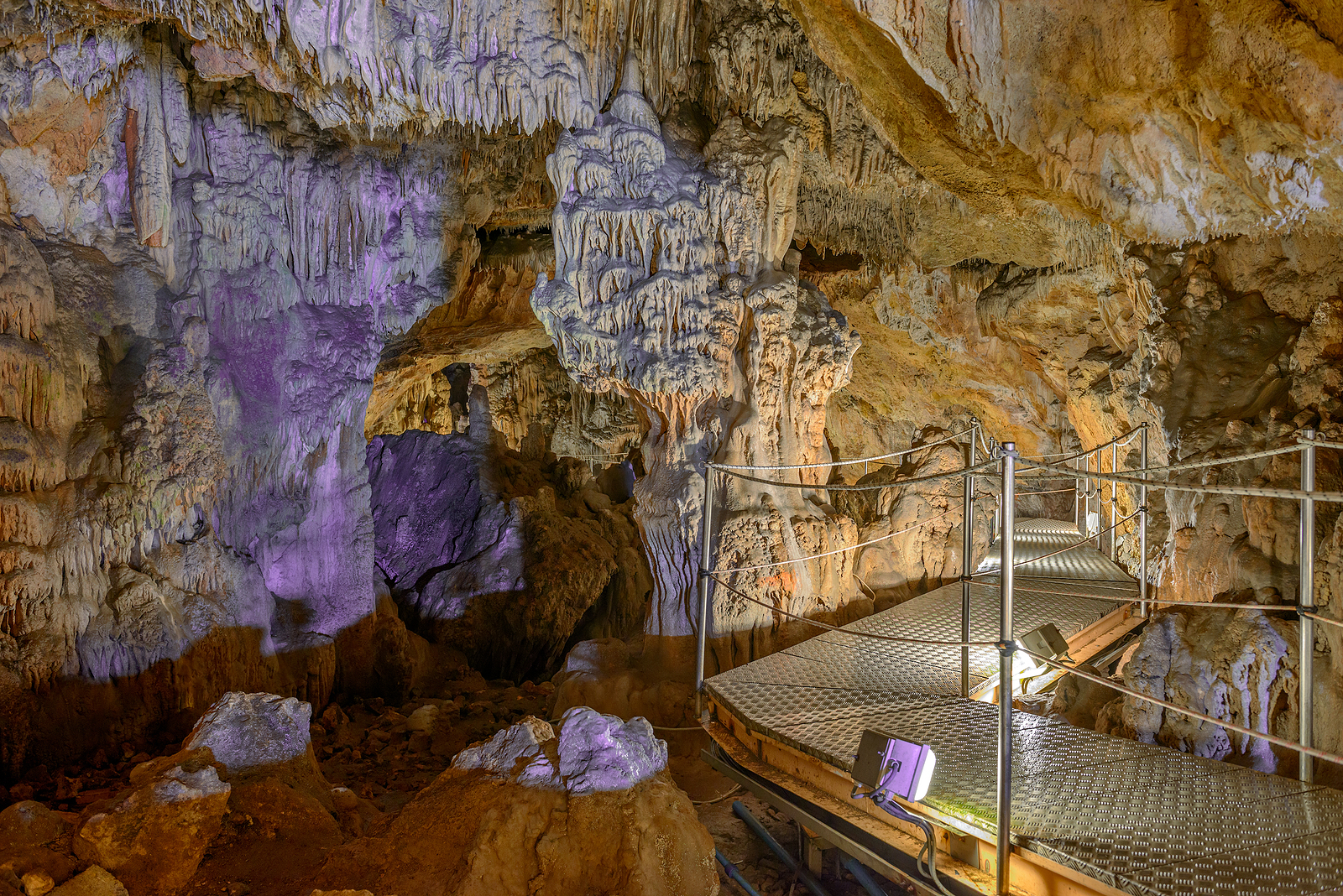 4.Lake Kournas
Situated around 20 kilometers west of Rethymno, Lake Kournas is the largest freshwater lake found in Crete. It's a peaceful spot to choose spending some of your day relaxing and enjoying the wonderful scenery that is a refreshing alternative to a beach. Lake Kournas offers guests opportunities for paddle boating around while you enjoy the scenic, lush surroundings.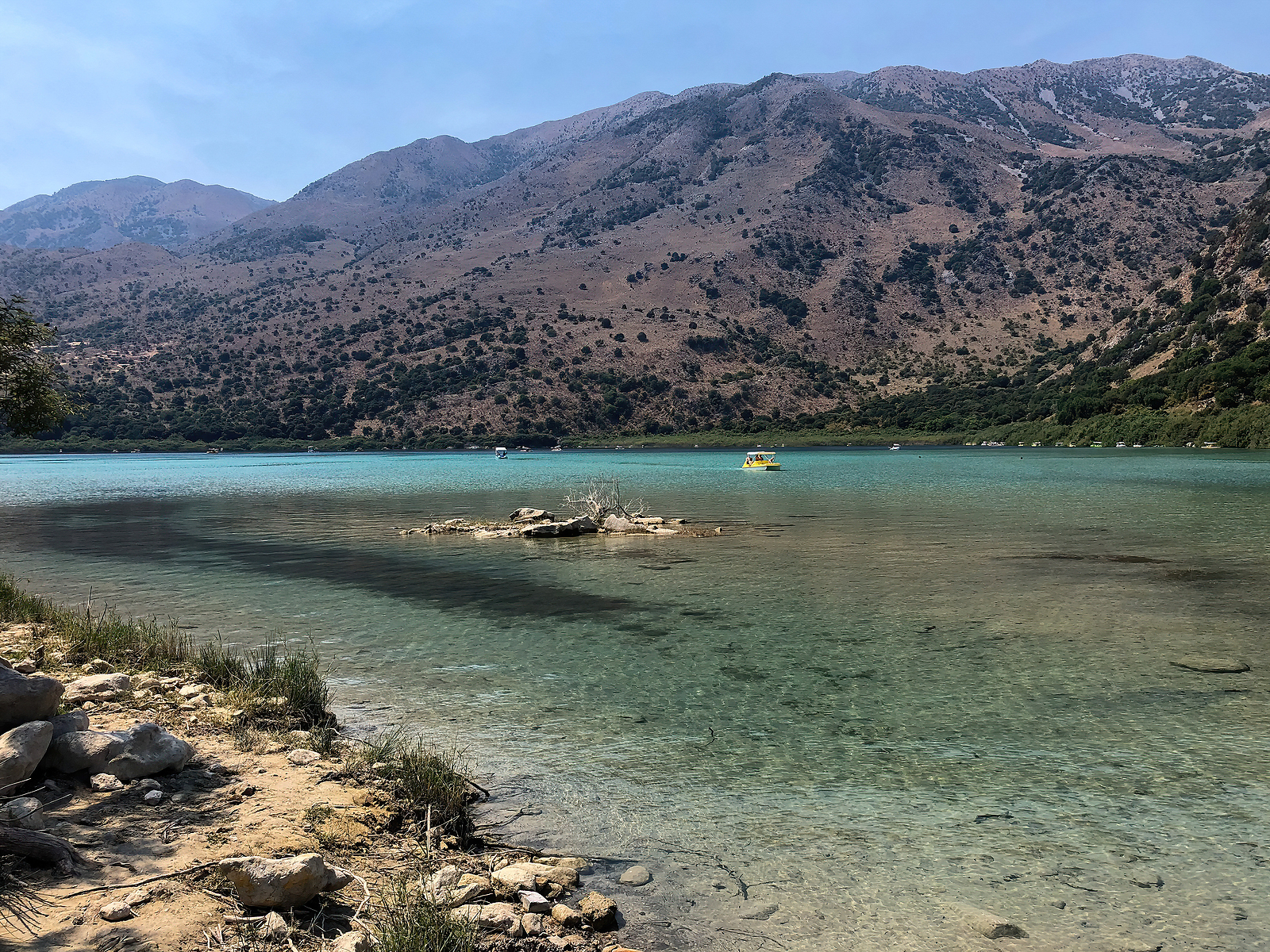 5. Preveli
Preveli is known for its stunning natural beauty that includes a palm-lined beach, a gorge, and a historic monastery. The beach is among the most famous in Crete. Characterized by its fine golden sand and crystal-clear turquoise waters, it has a tropical-like atmosphere, surrounded by steep cliffs and lush vegetation, making it a picturesque and tranquil destination for beachgoers.
Dating back to the middle ages, the Monastery of Preveli, officially known as the Monastery of Agios Ioannis Theologos (Saint John the Theologian), is a historic site located on the hill above Preveli Beach. If offers panoramic views of the Libyan Sea and the surrounding landscape.
Preveli is also connected to Kourtaliotiko Gorge by way of a river dotted with palm trees. The steep ridges of Preveli are filled with caves, unique vegetation, and wildlife. There are also old ruins, awesome waterfalls, and heart-stirring panoramas along the way.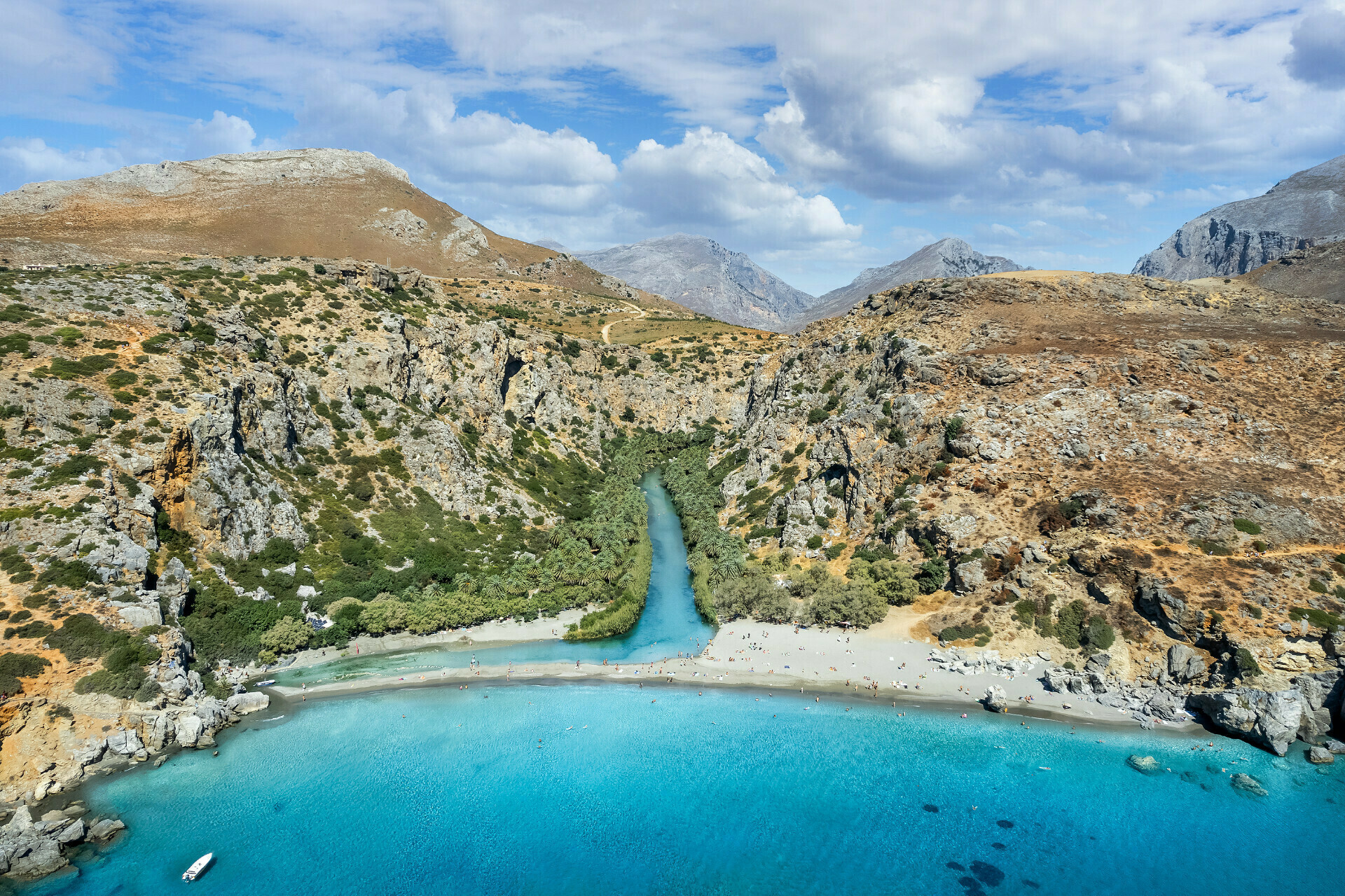 These are but a few of the many incredible places to visit 1 hour from Rethymno. For sun and sea lovers Rethymno is a dream come true. The north coast near Rethymnon is dotted with countless fabulous beaches, many of these fully organized. The beaches on the south coast are famed for being wild and beautiful.
While holidaying in Rethymno why not stay in an adults-only hotel in Rethymnon old town? This all-year-round luxurious retreat and green sanctuary is tucked away in the center of the romantic old Venetian town of Rethymno. The hotel's central location guarantees a stress-free sojourn with easy access to the best places to visit 1 hour from Rethymno for young couples.
Back to list